Planning For College

Universal life insurance can be the vehicle to funding your children's education while at the same protecting your most valuable asset, your family.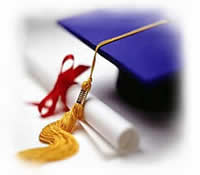 Universal Life Insurance is a cash value policy similar to Whole Life, but it offers more options. Part of your Universal life premiums pay for pure insurance protection, while another portion is invested to build cash value. With universal life you earn market interest rates on your cash value.
Universal Life offers you more flexible premium payment options, including additional payments to build up your cash value. This allows couples to cut back on their premium payments when they buy a home, have a child, or any event that temporarily impacts their budget. Later, when their income increases or expenses decrease, they can pay more. Aside from providing peace of mind for you and security for your family, universal life insurance can also help you build wealth and attain your financial goals.

Benefits of Universal Life
Flexibility

; You decide how much life insurance you need, also you can adjust the death benefit and premium payments to fit your changing needs (subject to certain requirements and limitations).

Security

; Protects your loved ones against possible financial hardship associated with the death of the insured.

Tax-Free death benefit

; Under current tax laws regarding individual life insurance, life insurance proceeds are generally income tax free to the beneficiary.

Tax-Deferred account value growth

; Your policy's account value earns interest at the market's current interest rate, federal income tax on the account is deferred.
This is a general description of coverage. A more detailed, complete statement of coverage is found only in the policy.
Start early…
College costs have risen consistently and significantly for the past 10 years, and it is highly unlikely this trend will reverse itself. Most cost estimates predict annual increases of 5% or more.
The average cost of four years tuition, room and board at a private institution was $118,597.00 in 2004. What's more, many people take more than four years to finish college and some go on to postgraduate studies, so you may need to save even more.

Get Your Free Universal Life Quote!