Planning For Retirement

You've finished your career and are you're looking to enjoying the fruits of your labor. Though the wealth you've accumulated is significant, perhaps more than you thought possible. Is it enough?
As Americans tend to retire younger and are living longer than ever before this question becomes more pressing.
According to the U.S. Bureau of Labor Statistics, the average length of retirement has increased from 7 years in the 1950's to over 20 years today.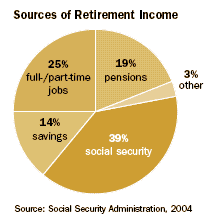 You can help ensure that what you've worked so hard to accumulate will be there to provide for you when you need it most by setting up a retirement plan with your investment professional.
Use a Retirement Calculator to determine if what you're saving now is going to be enough to fund the retirement you have in mind.Sadly sixty percent of today's workers haven't calculated how much money they think they'll need in retirement. The popular figure is 80-90% of your pre-retirement income.
Just to get an idea of what it will cost to eat, take a look at this:
Consider this; at just 3% annual inflation over 20 years, the purchasing power of a dollar will decrease to just 55 cents. This means those living on a fixed income will only be able to afford approximately half of what they can now afford.
Also keep in mind some cost is increasing at a much faster rate than 3%. One example is this year's annual increase is closer to 12% for retiree health care costs, including:
Prescription medications, Home health care, Nursing home care
Understandably some retirees are cautious about taking on investment risk with their nest egg. However you run the risk of not keeping pace with expected inflation if you invest too conservatively.
In 2004, 39% of retirees were dependent on social security for their source of income which may account for the 25% still employed in full/part-time jobs.