Who Needs Life Insurance?
Many people are unaware of the importance of life insurance. In order to find out if life insurance is right for you, we have provided important resources below. Please Click a Question to get started.
Who Should Consider Life Insurance?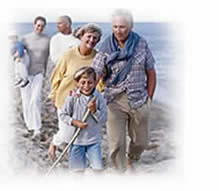 Young couples with or without families who need to replace lost income upon a spouse's death. Those who have others depending on them for support. Anyone with a growing family, home mortgage to pay and future college expenses to meet. Older, wealthy individuals, who want to preserve their estates for future generations. Business owners who want to insure the continuation of their business through buy-sell agreements.
How Will Life Insurance Protect My Family?
Life insurance can be a key component in a sound financial plan. Life insurance death benefit proceeds can provide the funds your family would need to replace lost income and protect a standard of living or protect against the eroding effects of estate taxes in the event of death of a loved one.
In addition it can provide the funds your family would need to pay mortgage, education expenses, everyday living expenses, burial expenses, income taxes, and other outstanding debts and obligations. While this benefit is income tax-free to your family as the beneficiary, however it may be included in your estate for federal estate tax purposes.